One of the most frequent questions our community members ask is, how can I get a professional or semi-professional football trial?
Although there is no definitive answer to this, we've attended enough trials over the years to have a good idea of some of the best practices to increase your chances of making it.
Below you will find a huge list of trial resources, from trial nutrition, to improving your chances of getting a trial. 
So let's get into this…
But first: 
To whet your appetite, here is a great insight into Arsenal FC academy, to show you what you can expect if your academy trial is successful.
What is a football trial?
We'll start with the basics and explain what a football trial is and why professional clubs use them.
An academy football trial allows young players to get a taste of the academy environment. Players can experience the surroundings at a potential club before committing to them or being offered a period of registration. The trial also allows the club to get a good look at the player and all aspects of his/her game over a desired period.
Football trial and talent days are becoming alot more rare, as professional clubs tend to opt for a larger scouting network for talent identification.
This is less risky for the clubs, as these scouts have great relationship with local grassroots coaches and schools so are able to build a database of players with potential.
This is why you will no longer see top clubs holding football open trials. Leading to a rise in the amount of football trial agencies opening around the globe. These companies vet through potential players and recommend players of talent to their partnering clubs. However there is a grey area around some of these agencies as there has been reports of companies falsely advertising that they have official links with professional clubs, so if you are looking to go down this route proceed with caution.
Selected for trial…what next?
Once you have been selected for a football academy trial, the recruiter will approach your parents to invite you to attend.
The majority of professional trials take place over a 6 week period, in which the player will attend training and play in matches. During this 6 week period the coaches will assess the player on the four main areas of football development. Looking into the technical, tactical, physical and social aspects of your game and personality.
If you are successful during this period the club could either offer you an annual registration or extend your trial for up to 18 weeks.
If you are unsuccessful the club may invite you to join the development center to help bridge the gap from youth football to academy football.
They may also allow you to return to your youth football club where a scout may still watch your games.
However: 
The trial process is different for most semi-professional football teams. Players are often invited to train and play in matches being assessed over a shorter period of time by the manager and coaching staff.
Trials for released players
Players who have already been involved in the academy system, are often seen as a more attractive prospect for professional teams due to their experience of working in a professional structured environment. Therefore the process for recently released or soon to be release players is different for unsigned players. Here are the two most common avenue for this type of players:
Football Academy Exit Trials – Under 16 Trials
If you are currently at an academy, but your club are not offering you a scholarship or extended schoolboy registration, fear not as there are still options available to continue to chase your dream.Each year during the second half of the season various organisations hold assessment days known as Exit Trials.Football scouts and sporting colleges/university attend these trials to assess the talent available and offer the chance to join a new club or move into higher education.Check out our
guide to exit trials
for more details.
League Football Education Assessment Trials – Under 19
If you are an academy apprentice with no offer of a further period of registration after completing two years, then a League Football Education assessment trial may be for you.This option provides a platform for released academy players or 1st year professionals to trial in front of professional and non-league club scouts and recruiters.Taking place throughout April and May at four select locations around the UK. This is a very prestigious opportunity, which attracts recruiters from both the UK and America.For further details and to check if you're eligible to take part in an LFE trial click
here
.
How to prepare for a football trial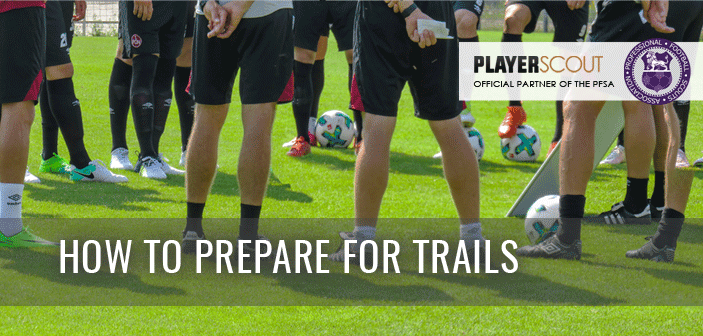 The moment you are invited to a professional football trial, is when the real work begins. You will need to step up your training intensity to make sure that you are in peak condition come trial time.
If you're not already doing so we suggest training on certain aspects every single day to ensure your game is well rounded in all areas. No matter how good you think you are, there is always room for improvement.
You should create a personal training and development schedule to work towards your trial that covers the main areas that the academies look for:
Technically prepare – Working individually on the basics skills, such as dribbling, passing, shooting, close control and ball manipulation.
Tactically prepare – One of the best ways to improve your tactical awareness is by watching the professionals. Try to watch games from all over the world, concentrating on players in your position. See how hard they work when not in possession, how they communicate with team mates and how efficient they are with the ball. This will give you an understanding of awareness, positioning with/without the ball and vision.
Mentally prepare – Try to visualise the trial game in your head. Imagine yourself dribbling past a defended, scoring a goal or saving a penalty. Relax your mind and keep focused. Try to surround yourself and regularly talk to positive people, who can encourage you and keep your mind clear of negativity. Some of the main personality traits the club will look for are commitment, bravery, good team player, winning mentality, hunger to learn and players who don't drop their head in negative situations.
Physically prepare – This is the time to put in work on your physical fitness. Hit the gym and get the sprints in. You need to improve your flexibility, speed, cardiovascular endurance, strength and acceleration to give you the edge over your competition on the day. Special consideration should be given to foot speed, straight line speed and speed endurance.
Check out our ultimate guide to football trial preparation to ensure your are ready for your trial.
What to eat before a trial?
Many players fail to take their pre trial nutrition seriously and end up faltering toward the end of the assessment day.
The standards at football trials are so high, that you should use every tactic available to improve their chance of success, and fueling correctly is very important.
We have a dedicated article which explains exactly what you should consume in the build up to your big day. Check out our guide to football trial nutrition and give yourself the energy boost you need to succeed.
How To Pass A football Trial?
The key to performing your best is to not let the occasion get the better of you.Remember you were invited to trial because a professional scout saw qualities in your game and personality that they believe can benefit the team they represent.However it doesn't hurt to plan
how to be successful at your trial
.
We regularly receive questions from our community members about football trials. We have tried to answer the majority of them here.Feel free to drop any further questions in the comments below.
WHAT NEXT…. So now you have better idea of what the trial process, how to prepare for a trial and what it takes to impress on the day.Now it's time to improve your chances of getting scouting for a professional team and we show you how and much more in our FREE webinar and email course. Click below and sign up today.