The youth football development system in England received a highly controversial shake up in 2012 with the introduction of the EPPP and with it the ranking of clubs into
football academy
categories.EPPP stands for Elite Player Performance Plan and is a Premier League led strategy to improve the quality and quantity of home grown players. The plan was created with the individual player in mind with input from the Premier League, the Football League, the Football Association and various football clubs.Check out the
football academies information
section for the latest academy articles.
Latest Football Academy Articles
How do Football Academy Categories Work?
The EPPP academy system is based around an independent audit process, where clubs are assessed and categories and given a status of 1 to 4, with 1 being the highest status. The club clubs are assessed on different key areas including:
Productivity rates
Training facilities
Coaching
Education
Welfare Provisions
Then giving a grading appropriately.The EPPP will ensure that more money is invested by the FA and Premier League into English Youth Development, with a tiered approached of invested available across the football academy categories. This approach means that category one academies will receive more funding than category two and so on.
"Since the inception of the Premier League there has always been a strong focus on Youth Development, but the focus on youth has probably never been as intense or as urgent as it is right now," Ged Roddy, Director of youth at the Premier League
Only a small group of football academies are awarded with a Category One status, and not all of them are in the Premier League.
Category One Football Academies
Category One status is extremely hard to achieve and takes real commitment from the club. Any football academies that have this status is a show of the quality of the coaching, equipment, facilities and strategic development that you can expect to find.Category One football academies also invest a lot to maintain their status. There are also some clubs that choose not to publicise their status in order to avoid being over approached by players and parents.
Football Academy Category One: Premier League 2 (U23's)
From the start of the 2016/17 season all Category 1 Academies will now play in the Premier League 2 and no longer the U21 Premier League (2012-16). Players under the age of 23 are permitted to play in the Premier League 2. This change will hope to bring about a greater focus on intensity, technicality and physicality allowing young players to get a more realistic experience of first team football. The league is made up of 15 Premier League teams and 9 Championship teams.Premier League 2 comprises of two leagues Division One and Division Two, with 12 teams in each league and promotion and relegation at the end of each season. Category one academies are also allowed to compete in the
Premier League International Cup
,
EFL Trophy
and the
Premier League Cup
.
Premier League 2 Rules:
Each team plays other teams in their division twice (home and away)
The team who finish first in division one will be crowned champions
The two teams who finish bottom of Division one will be relegated to Division two
The winners of Division 2 will gain promotion automatically to Division 1
2nd, 3rd, 4th and 5th placed teams in Division 2 will go into a playoff for the one remaining promotion spot.
Previous League Champions at this level (U21):
Manchester United – 2015/16
Manchester United – 2014/15
Chelsea – 2013/14
Manchester United - 2012/13
The U18 Premier League is the first step in helping young players transition from youth academy football to the first team squad.This league is also made up of Category One Academies, 15 Premier League and 9 Championship teams. 12 of the clubs are sectioned in the north regional group and 12 in the south regional group.
Category One Academies - U18 Premier League Rules:
Each team will play every other team in their region twice (home and away)
Towards the end of the season the leagues are then split into 3 groups and new leagues are formed
Positions 1-4 from each region make up final stage group 1
Position 5-8 from each region make up final stage group 2
Position 9 -12 from each region make up final stage group 3
Clubs will then play each team in there group once with the winners or group 1 being crowned the champions.
Previous U18 Premier League Winners:
Manchester City – 2015/16
Middlesbrough – 2014/15
Everton – 2013/14
Fulham – 2012/13
Category One Academy List
The following clubs have the elite Category One status under the Premier League's Elite Players Performance Plan (EPPP).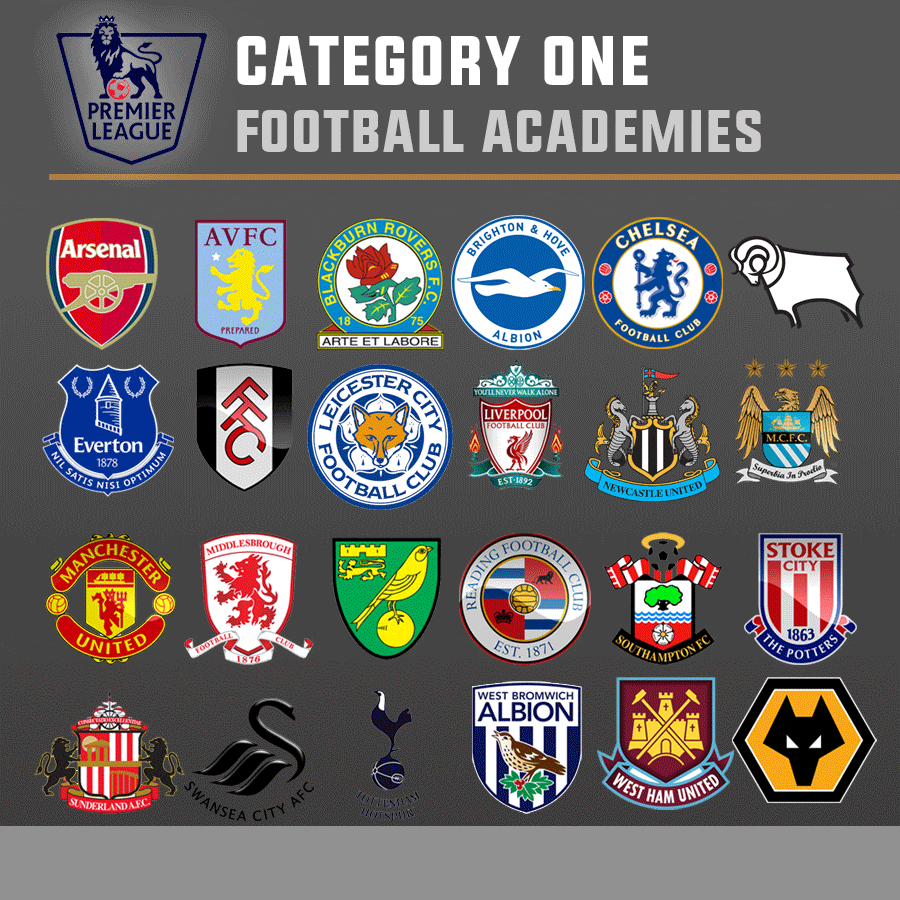 Arsenal FC Academy
Aston Villa FC Academy
Blackburn Rovers FC Academy
Brighton FC Academy
Chelsea FC Academy
Derby County FC Academy
Everton FC Academy
Fulham FC Acdemy
Leicester City FC Academy
Liverpool FC Academy
Newcastle United FC Academy
Manchester City FC Academy
Manchester United FC Academy
Middlesbrough FC Academy
Norwich City FC Academy
Reading FC Academy
Southampton FC Academy
Stoke City FC Academy
Sunderland Athletic FC Academy
Swansea City AFC Academy
Tottenham Hotspurs FC Academy
West Bromwich Albion FC Academy
West Ham United Academy
Wolverhampton Wanderers FC Academy
Football Academy Categories: Category Two Academies (U23)
Category two status is given two the teams who's infrastructure falls just short of the investment and resources implemented by the Category one teams.The 21 Teams in this Category play in the
Professional Development League
(PDL), which is made up of 2 divisions (11 in the North and 10 in the South), before the top teams face off in a play-off to be crown the Professional Development League Champions.This level of academy football is categories as one tier lower than Premier League however there are no promotions or relegations.
Professional Development League format:
Clubs will play each team in their region home and away
The top two teams in each region will enter a playoff to compete for the PDL title.
Previous Professional Development League National Champions
Huddersfield Town 2015/16
Category Two Academies: U18 Professional Development League
Category two academies also battle is out in the U18 PDL. This also consists of two regional leagues (North and South) before finishing with a play-off deciding the title.
U18 Professional Development League Rules:
Each team players the other teams in their region twice (home and away)
The top two teams from each region face each other in a play off situation to decide the final positions.
Previous U18 Professional Development Lead National Champions:
Charlton Athletic – 2015/16
Category Two Academy List
The following clubs have Category Two status under the Premier League's Elite Players Performance Plan (EPPP).
Barnsley FC Academy
Birmingham City FC Academy
Bolton Wanderers FC Academy
Brentford FC Academy
Bristol City FC Academy
Cardiff City FC Academy
Charlton Athletic Fc Academy
Colchester United FC Academy
Coventry City FC Academy
Crewe Alexandra FC Academy
Crystal Palace FC Academy
Huddersfield Town FC Academy
Hull City FC Academy
Ipswich Town FC Academy
Leeds United FC ACademy
Millwall FC Academy
Nottingham Forest FC Academy
Queens Park Rangers FC Academy
Sheffield United FC Academy
Sheffield Wednesday FC Academy
Watford FC Academy
About all the English Football Academies with example training plans and contact information.
Spanish Football Academies with example training plans and contact information.
About all the Scottish Football Academies with example training plans and contact information.
Dutch Football Academies with example training plans and contact information.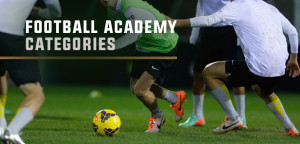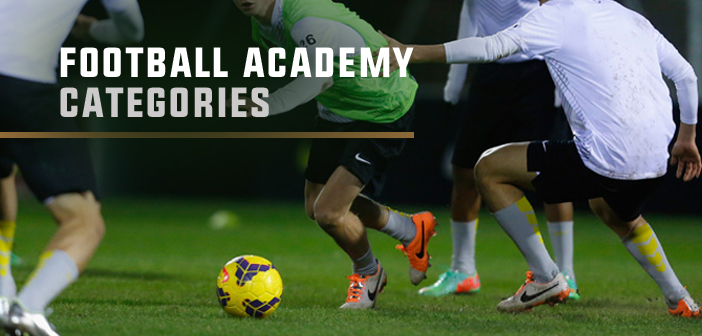 Football Academy Ranking Categories set by the Premier League under the Elite Player Performance Plan (EPPP).
More »
PS Academy is Opening September 2018