Do you want to know what football scouts look for in a player?
Then you're in the right place.
Because this page will show you exactly what scouts look for. And how they report back on players to establish if they are suitable.
The best part?
You'll get an insight into how a scout's work, so you can improve your own game and make yourself a better prospect.
Let's do this!
Talent Identification Model
Before we look at position-specific scouting, lets look at the general areas of talent identification.
This brings us to The Five Multidimensional Properties for Talent Identification
Created In 1998 psychologist Jane Davidson and Michael Howe. This model forms the basis taught to professional scouts on the PFSA scouting course.
In short…
The following is a cheat-sheet on what football scouts look for.
The five talent identification predictors are:
1: Anthropometric Talent ID Predictors
This assesses your physical measurements.
Not easy for a player to change or adapt (except your weight). But important to understand that scouts may be looking for different body types.
Other areas that fall under this predictor are:
Growth
Body Type
Height
Weight
2: Physiological Talent ID Predictors
These predictors assess your physical ability to perform work. Some physiological areas a scout may look for are:
Muscular Strength
Stamina and endurance throughout the 90 minutes
Balance and Power
Speed and Agility
If you feel you are lacking in any physiological areas, don't fret…
You can improve these areas with specific training.
3: Psychological Talent ID Predictors
One of the hardest things for a coach to develop is a player's mental strength. So, scouts are very interested in mentally strong players.
These predictors include:
Discipline
Confidence
Determination
Motivation
Attention
Awareness
Ambition
Respect
4: Sociological Talent ID Predictors
It's not always how a player performs on the pitch. For a scout to get a true feeling for a player, he must understand outside influences.
This includes:
Socio-economic influences
Education
Parental Support
These areas are important as academies may have only 3/6 hours of contact with a player a week.
Which means…
There are potentially 162 hours a week that a player can still work towards his development.
This requires family input and support.
Whether its creating a safe home environment or providing nutritious meals. A young players support network is key to his development.
Also…
Scouts may approach your school for a report to understand:
Your behaviour
How you learn
How respectful you are to teachers
How you interact with your piers
5: Technical Skills Talent ID Predictors
This area looks at the individual skill of a player. These skills can also be developed by practice and structured training.
Technical skills may include:
Ball control
Positioning
Awareness
Dribbling
Shooting
We go deeper into the exact criteria scouts used to determine a player later in the article.
Now you know the general aspects of talent identification. It's time to understand what scouts want to see when assessing a player by positions.
What do scouts look for in a goalkeeper?
Playing in goal is the loneliest position on a football pitch.If you make a mistake, this often leads to a goal.Therefore….Keepers must have great mental toughness and concentration levels.The key attributes a scout looks for in a goalkeeper include:
Aerial ability
Command of the penalty area
Communication with defence
Decision Making
Distribution
Good reflexes
Handling
One-on-one ability
Positioning
Shot Stopping
Here's a great video by
FourFourTwo
on goalkeepers can impress at a trial.
What do football scouts look for in a full back?
The modern game has seen a shift from fullbacks to wingbacks.Meaning…Wide defenders need to be more athletic nowadays so they can regularly join attacks.The technical attributes a scout looks for in a fullback include:
Anticipation
Crossing
Marking ability
Pace
Stamina
Tackling ability
Team responsibility
The timing of forward runs
Work rate
What do scouts look for in a centre back?
Long gone are the days when a tall route one centre back. Who was praised for clearing his lines by kicking the ball as far up the pitch as possible.Nowadays scouts are looking for more…Central defenders must also be able to control the ball and instigate attacks. Understanding when to clear the ball is still important.However…Having the ability to clear the ball to a teammate, requires awareness and great reading of the game.The main attributes a scout looks for in a Central Defender are:
Ball Control (becoming more important for defenders)
Bravery in attempting challenges
Concentration
Communication
Height
Position
Reading of the game
Speed
Strong and accurate ball heading (defensive and attacking)
Tackling ability
It is key for a center back to know when to hold up an attack or dive into a challenge. But, this can be developed by training.
What do football scouts look for in a midfielder?
Central midfield is one of the most difficult positions in football. You'll often find that the most complete footballer plays in this position. Not only must they be able to control the game. They must also have stamina and defensive abilities to break down opposing attacks.It is fair to say that central midfielders need to be able to do everything.However…The main attributes a scout will be looking for are:
Awareness
Ball control
Breaking into the opposing box
Marking abilities
Passing ability under pressure
Positioning
Stamina
Tackling and defensive abilities
Vision
All in all, a central midfielder needs to control the play and is the glue that holds the team together.Think:Lampard, Pirlo Gerrard, Scholes, Xavi, Iniesta and you'll understand the qualities needed.
What do football scouts look for in a winger or wide midfielder?
Wingers or wide midfielders are often the most exciting players on the pitch. Nothing gets the crowd on their feet more than when a pacey tricky winger go past a fullback.Scouts are no different. A player with blistering pace is an exciting option for any football recruiter.Other attributes scouts look for in wide players are:
Pace
Technical ability like dribbling and close control
Off-the-ball intelligence
Creativity
Crossing
Decision Making
Vision
What do football scouts look for in a striker?
The main thing scouts want to see in a striker is Goals.Are you a natural finisher? Do you hesitate in front of goal, or strike with confidence without looking up. These skills show awareness of your position on the pitch and a strikers instinct.Goals win games, and that's why attacking players receive the highest salaries in the game.However,Scouts also want to assess a players movement off the ball. Do they make well-timed runs, creating space for teammates. Is the player strong enough to hold off defenders and hold up the ball?The main skills a scout looks for in a striker are:
Confidence
Composure
Finishing ability
Heading ability
Off-the-ball intelligence
Pace
Relative Strength
Technical ability
What does a Scout Report look like
Understanding how a scout reports on a player will help you adapt your training to cater to a scouts needs.
Here is an example report from the PFSA.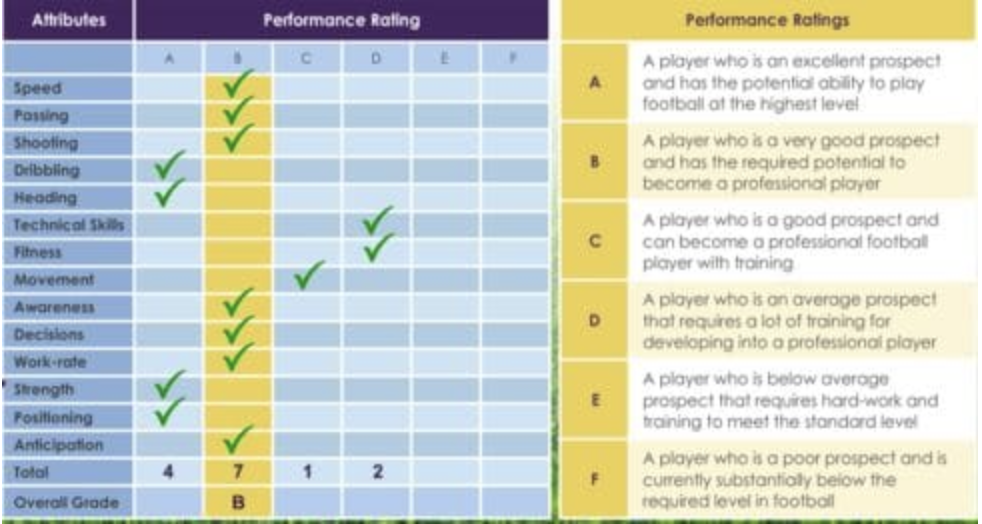 How club sign new players
When a scout recommends a player, this marks the start of a potential signing. However, some scouts may deem a player 'talented but not ready yet'. Here, the club continues to monitor the player's progress until they feel they are ready. The football scout may also continue to monitor this player and assess if the player improves. This way he can see if the player is consistent in their attitude and talent, or whether he discovered them on a 'good day'.At a point that the club is in agreement that the player is a potential signing, they send an official football
academy trial
invitation. This is an exciting time for all young players as they signify that they have reached a certain standard.Depending on the type of trial you are invited to will depend on which academy staff is in attendance. Each member of academy staff will have a specific role in assessing you as a player. At this point they are not just looking for skill set, they will be looking for:
Team work
Player personality
Player mentality
Training attitude
At the trial, the football club is able to compare any new talent against current players. This allows them to compare their ability and development areas. The club will also perform a background check on the player and if this stacks up they will attempt to sign the player. This can be in the form or a registration, extended period or transfer.If a player is already signed to a football club academy, they may not be allowed to miss training, or trial at a new club until their registration has ended. This is where the EPPP compensation comes into play. Smaller football clubs are more flexible on this, as they often want the cash if they sell or let a player go.