Understanding football positions can be difficult to any players new to the game, so we decided to simplify things with the following guide. Much like our football rules guide by the time you reach the end of this page you will have more knowledge on roles of various positions within football.
Football is a game played by two teams of 11 players, each of them assigned an area of the field to operate in known as football Positions.
Every football team starts a game with one goalkeeper and ten outfield players. The outfield players are made up of defensive, midfield and attacking positions. These vary depending on the manager's tactics and formation.
A player's position is usually suited to his unique skills and physical attributes. Before we delve into the most common positions on a football pitch, check out this video on basic positioning:
The History Of
Football Positions and Formations
Back in the early days of football, the game was a lot more attack focused with 1-2-7 as a popular formation for most teams.
Throughout the years the game has evolved and formations and tactics have become a science in gaining an advantage over the competition.
Professional footballers often spend their whole careers only player a few different football Positions. Very rarely you get a 'utility player' like James Milner who is adept at playing a number of Positions.
The biggest exception to this was Johan Cruyff's 'Total Football' philosophy where players were coached to be able to play in every outfield position.
So football Positions may vary depending on tactics, however the general positions are the same throughout the world.Check out this short video by COPA90 about the Evolution of football tactics:
Football Positions Guide
Goalkeepers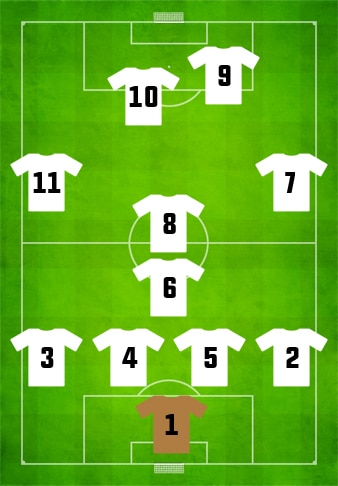 The last line of defence in any team is the goalkeeper. The keeper must use any part of his body to stop the opposing from scoring.
Whereas most outfield players have the freedom to roam the pitch, the keeper spends the majority of the match in and around his own penalty area. This allows them to see more of the play and direct defenders into correct positions.
Keeper is the only position that can use their hands, provided they are in there own penalty area. Specific goalkeeper gloves are designed to help improve grip, punching and protection.
This is also the only player on the team who wears a different colour kit to the outfield players.
In the past Goalkeepers may have worn hats to shield the sun from their eyes; however multi-tier stadium now help to keep the sun at bay.
The top 5 Goalkeepers in the world are:
Marc-Andre Ter Stegen
David De Gea
Thibaut Courtois
Jan Oblak
Gianluigi Buffon
The 2 Types of Goalkeeper Styles
There are two main styles to classify a goalkeeper, a Shot Stopper and a Sweeper Keeper.
1: Shot Stopper
The main attribute of a shot-stopper is saving point blank range shots. They process great positional and reaction skills and are known for making themselves big to narrow the angles for on coming strikers.
One of the best shot-stoppers in the world is David De Gea, who often pulls of incredible saves to keep his team in the game. He has a high save to shot ratio and makes sure he gets any part of his body in the way of the ball.
2: The Sweeper Keeper
The modern rise of the sweeper-keeper has seen the end of the traditional sweeping defender. This type of keeper is great with their feet and is often the catalyst for his teams counter attacks.
Sweeper keepers are able to read the game, with electric pace of their line to close down an attacker or play outside of their own area.
A great sweeper keeper is Ederson (Manchester City)
Are you interested in becoming a goalkeeper? Here is a great masterclass for Petr Cech on the basics of goalkeeping:
Football Positions Guide
Defenders
In front of the goalkeeper you have the main defensive positions in football. There main duty is to provide a solid base and stop the opponents from scoring.
In most cases defenders spend the majority of the match there own half, however wing backs and ball winning center backs may join attacking plays and set prices throughout the game.
The main roles of the central defender are to mark the opposing strikers and stop the opponents from scoring.
They operate in the central part of the defence just in front of the goalkeeper. Most formations have two central defenders; however some very successful Italian teams have triumphed with three central defenders.
Central Defender Marking Tactics
Although all team tactics are different the main two central defenders strategies are:
Man to man marking- each central defender marks a specific player
Zonal Marking- each central defenders covers his area of the field, marking any striker who enters his area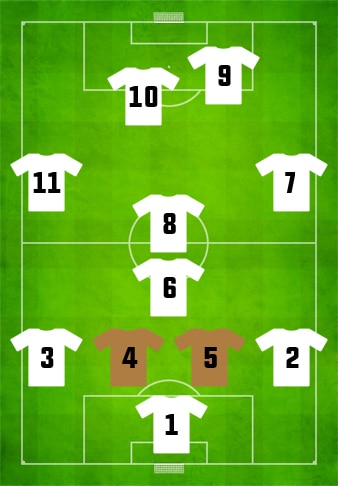 Central Defender Attributes
Central defence is a specialist position and often players risk getting hurt to protect their goal.
A good central defender must be:
Tall (in most cases)
Strong
Good at jumping
Great heading ability
Good tackling ability
High concentration levels
Read the game well
High bravery
Decisive in last ditch tackles
These aerial skills make central defenders a threat in attacking set piece and corner situations; however central defenders only go forward if smaller full backs of central midfielders can cover the defence.
The top 5 Central Defenders are:
Jerome Boateng
Thiago Silva
Sergio Ramos
Diego Godin
Giorgio Chiellini
What is a Sweeper?
Also known as the Libero, the sweeper is great at reading the game and main Job is to 'sweep up' if the attack gets past the first line of defence.
They usually sit just behind the central defenders, staying free instead of marking a striker. A sweeper must have the ability to read the game and spot potential attacks before they develop.
This position was more popular before the introduction of the offside rule, as teams tend to step up to play the attackers offside nowadays.
Here are some of the worlds best sweepers:
Franz Beckenbauer
Velibor Vasović
Armando Picchi
Gaetano Scirea
Bobby Moore
Franco Baresi
Daniel Passarella
Elías Figueroa
The defenders positions either side of the central defenders are the left back and right back, known as full backs. There main role is to defend against the opposing winger in the wide areas.
A traditional full back is more defensive minded than the more modern wing back and tend not to venture past the half way line. Attacking full backs (wing backs) may still be referred to as full backs, although there match duties involve both attacking and defensive roles.
The best full backs in the world:
Dani Alves
Philipp Lahm
Marcelo
Jordi Alba
César Azpilicueta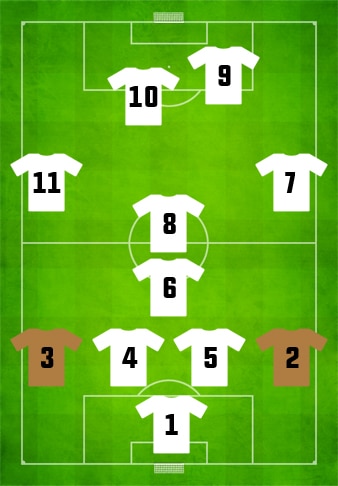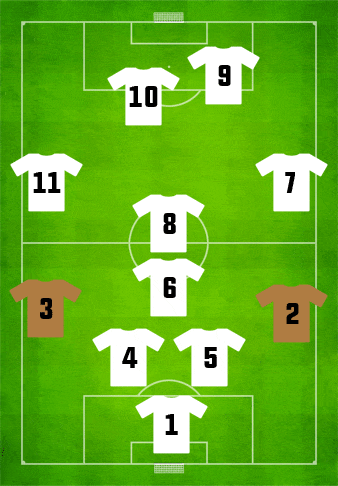 One of the most physically demanding Positions in football, the wing back has a more attacking mind-set than the usual full back.
Tasked with being a wide outlet for the team, a wing back is mainly used in a 3-5-2 formation.
The term wingback is less popular in modern football as full backs nowadays are encouraged to venture forwards and support the wide midfielders.
Wing-backs need to:
Have exceptional stamina
Great tracking back and defensive skills
Be able to pick out attackers when crossing
Have great speed
Find out which football boots the worlds best defenders wear with our guide to the best football boots for defenders.
3 Defender Styles
There are three main styles to classify defenders; stoppers, attacking full backs and libero's.
1: The Defensive Stopper
A stopper is a more traditional style of central defender. There main aim is to stop the striker from scoring. They are often tall, strong and brave, with excellence man marking skills.
Stoppers have no fear in using there body to block the ball or perform strong tackles on opponents.
One of the best stoppers in the world is Leonardo Bonucci.
2: The Wing Back
Wing back or attacking full back is one of the most physically demanding roles in football. They play wide of the centre backs and are tasked with both attacking and defending.
This role is a combination of full back and winger, so players must be able to cross, and support the attacking players. This player must have immense stamina and acceleration.
3: The Sweeper
The final defensive style is a Sweeper or Libero and is tasked with cleaning up and lose balls behind the defence. This role is less rigid than other defenders and is free from marking attackers in open play.
Good sweepers are after small and agile with great pace from a standing start. They have great awareness, vision and passing ability and play similar to an american football quarter back.
One of the most famous sweeper was Franz Beckenbauer.
Football Positions Guide
Midfielders
The position between defence and attack are known as midfield positions.
Midfielders must dictate the speed of the play, break up opposing attacks and keep possession of the ball. They also link the play from defenders to attackers, often creating chances for forward players.
In modern day football, managers will deploy one midfielder to solely break up the oppositions attacks.
Most midfielders cover a large distance throughout a game as they are expected to defend and attack.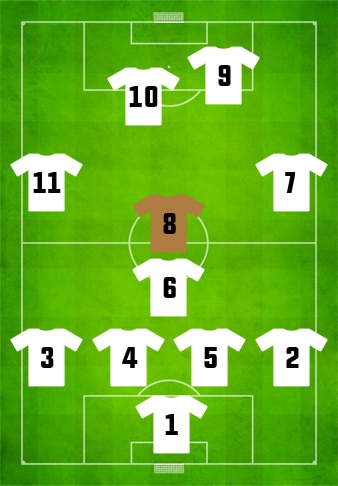 Central midfielders are often referred to as the midfield generals or the team's engine room, having to battle throughout the game to sway the momentum and tempo in their teams favour. The team who win the midfield battle usually comes out on top at the final whistle, so it's important to have the most accomplished players in the middle of the field.
These players get through a mountain of work throughout the 90 minutes, with both attacking and defences duties to perform. In attack they must support and create chances for the forward players and in defence they become a protective layer in front of the back line to break up opponents attacks.
A good Central midfielder must:
Have good vision and football intelligence
Great passing ability (long and short)
High stamina levels
Be able to tackle to win the ball back quickly
Have good control and technique
Formations can vary from manager to manager. Some prefer to have two central midfielders, whilst other may deploy a defensive midfielder, central midfielder and attacking midfielder all in the same formation.
Top Central Midfielders in the world:
Paul Pogba
Andres Iniesta
Luka Modric
David Alaba
Ivan Rakitic
Defensive midfield is an unglamourous role, which rarely get the praise they deserve. They are also known as the midfield anchor or holding midfielder and work hard to protect the defence. These players are tactically minded, often covering other player's positions when they venture forward.
In some cases the defensive midfielder may take on a deep-lying playmaker role, similar to an American football quarterback, where they can dictate the play with long and short passes. Players in this position must have a great deal of discipline to hold the team's shape and spot potential dangers as they arise. They are also the player is covers the most distance over the 90 minute.
A good defensive midfielder must:
Have great positional awareness
Have a high work rate
Be able to tackle and track back
Have good anticipation
Have good close control
Be able to pass long and short
Have great stamina levels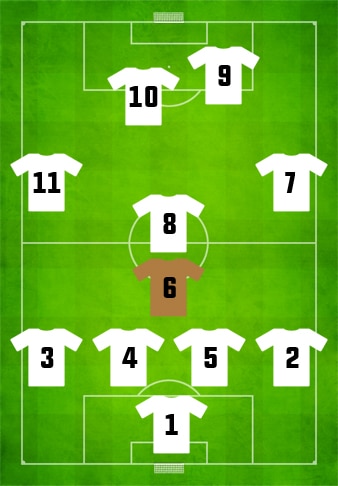 The Best Defensive Midfielders in the world:
Sergio Busquets
Nemanja Matic
N'Golo Kante
Blaise Matuidi
Playing in an advanced midfield role, the attacking midfielder is the team's creative player. Also known as the number 10 (do to the squad number associated with this position), the playmaker is the orchestrator of attacking moves, tasked with the job of creating and scorer goals.
Attacking midfielders can be position on the left, right or centre of the field and the link between central midfield and attack. They have good movement, which allows them to move into space and makes them difficult for defenders to mark.
A good attacking midfielder must:
Possess great vision
Have good control
Be technical on the ball
Have great passing ability
Be able to read the game
Able to shoot from long range
Have good agility
Have great acceleration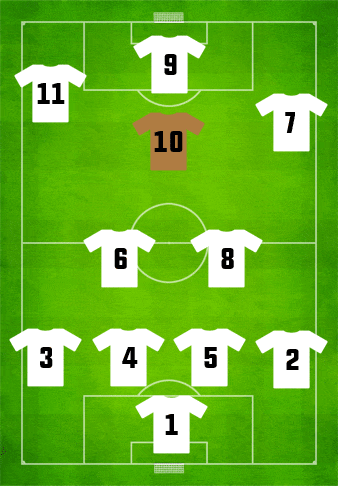 The best attacking midfielders in the world:
Arda Turan
Mesut Ozil
Dimitri Payet
Koke
David Silva
Wide midfielders play either left of right of the central midfielders. Their role is to provide width for the team in attack and protection for the full backs in defence.
Not to be confused with an out-an-out winger who is more of a wide forward, the wide midfielder in some cases can be a central midfielder who is task with a wider role to give the team more protection.
These players do not always possess the speed and trickery or a stereotypical wide man and usually play in a 4-3-3 formation.
Some world recognised wide midfielders are:
Marek Hamsik
Mario Gotze
Thiago Alcantara
Julian Draxler
Make sure you have the most suited boots for your positions with our guide to the best football boots for midfielders.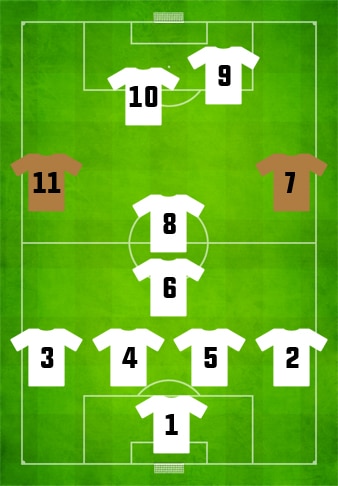 The 6 Types of Midfielder Styles
Now you are aware of the set positions in midfield, let look at the type of players who play in these positions.
1: The Ball Winner
This style of midfielder plays as a more advanced defender. There main role is to break up opponents attacks higher up the pitch and feed to the ball to the more technical players.They are excellent at reading the game and discipline in holding their position, which enables them to intercept through balls. One of the most famous sweeper was Franz Beckenbauer.
2: Defensive midfielder
In most teams the defensive midfielder is also task with the ball winner role. This player is a central midfielder who sits in the middle of the park and focuses on defending over attacking.
They players must be strong and have great aerobic endurance.
3: Creative midfielder
Most teams have a creative player in midfield who is the link between defence and attack. This player is skilled at passing, through balls and has good feet to make space for a pass. They also have the vision see runs and move the ball into space for strikers to hit first time. This role can fall to the central midfielder, attacking midfielder or number 10.
4: Box to Box midfielder
This is up their with one of the hardest roles on a football pitch. This player must have incredible stamina and the ability to attack and defend. Throughout the 90 minutes they cover all areas of the pitch and are involved in most attacking and defensive situation. In most cases this box to box player is the captain and leads by example of the pitch.
5: Wide midfielders
Wide players are often skilled at dribbling and bless with lightening acceleration. They often hug the sideline and deliver crosses into the box for the forward players.These players are a great outlet to take pressure of their defenders and often have the skill to turn defence into attack with one pacey dribble.Sometimes strikers will pull right or left as a tactic to draw a defender out of position or to get into unmarked space.
6: The Playmaker
Most teams have a player who controls the tempo of the play and brings others into play. These are known as the playmarkers.They have great passing and vision and usually play in the central position.
Football Positions Guide
Forwards
Forwards are the players whose are tasked with scoring goals for the team and created chances for other players. Also known as strikers these players are positioned closest to the opposition's goal.Forwards as said to be the first line of defence, by pressuring opposing defenders when their do not have the ball. Teams commonly play with 1-3 forwards depending on the team's formation.
4-5-1 formation has a loan striker
4-4-2 formation has two forwards
4-3-3 formation has one striker and two wingers
Some formations have two forwards however one plays on the last defenders known as a target man or poacher and the other plays as in 'the pocket' and creates chances for the poacher.
A good target man is usually:
Tall
Has good heading ability
Good shot accuracy
Able to retain possession by holding up the ball
The main striker in a team is known as the centre forward and is tasked with scoring goals and working the opposition's goalkeeper. Therefore a centre forward is often said to be in good form if they score lots of goals.
In the past centre forwards were big and strong players who could win the ball in the air and bring others into play. However as the pace of modern football has increased so has the need for pacey agile centre forwards, with height no longer a necessity.
Managers who favour a 4-4-2 formation may play two centre forwards side by side or opt for a support striker alongside there centre forward. This formation is often used when a team needs to score a goal.
When a team is defended a lead or opting for a more defensive strategy from the start, the manager may go for one loan centre forward in a 4-5-1 formation.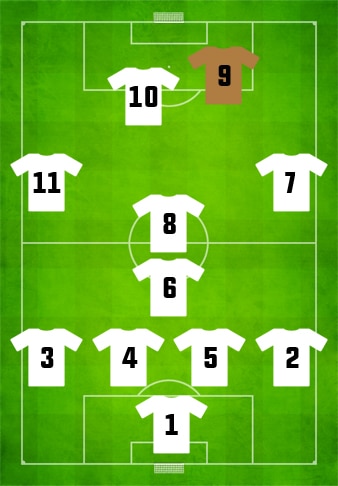 Best Centre forwards in the world:
Luis Suárez
Cristiano Ronaldo
Diego Costa
Robert Lewandowski
Zlatan Ibrahimović
Lionel Messi
Often the main striker will play up front with a second striker. Sometimes called a support striker, deep-lying forward or withdrawn striker this player is known for playing in the area behind the striker (or playing in the hole).
In modern football this role is called the number 10 role, as support strikers and advanced playmakers have often worn this number of there back.
Players in this position usually have a free role allowing them to drift in to positions of space to receive the ball. They best support strikers are creative and adept at scoring and assisting the central forward.
A good second strikers must be:
Skilful
Quick
Agile
Have great vision
Able to pass long and short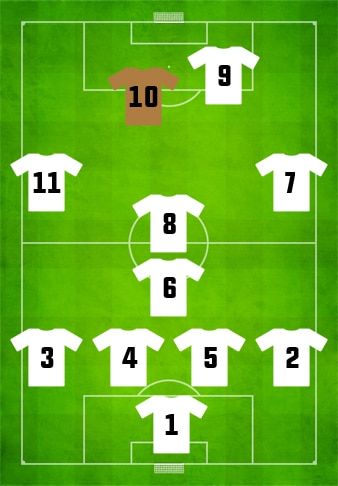 The last position is one of the most exciting positions in football. The winger can play on either the left or right flanks and is usually part of a 3 man attack.
Wingers are tasks with creating chances for the strikers, usual by dribbling past the opposing full backs and delivering crosses and through balls into the box.
Two of the best wingers in world football, Cristiano Ronaldo and Gareth Bale play on the opposite week to their favoured foot (bale left footed plays on the right and Ronaldo rift footed plays on the left). This allows them to cut in off of the wing and strike a goal.
A good winger must:
Be Fast
Be Strong at holding off defenders
Have great passing ability
Be able to cross
Have an eye for goal and have a good long shot
Be able to read the game and hold their position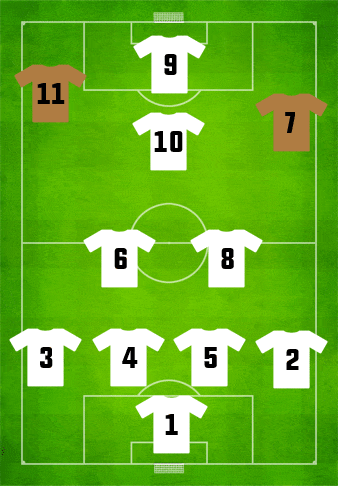 A lot of the best teams in the world choose to play with wingers as they are a great outlet for counter attacks. However some managers choose not to play with wingers opting for more defensive protection via a wide midfielder who will track back and help the defence.
The best wingers in the world:
Gareth Bale
Neymar
Eden Hazard
Alexis Sanchez
Antionne Griezman
The 5 Types of Attacking Player Styles
So now you are aware of all of the forward positions, let have a look at some of the styles that players in these positions adopt.
1: The Dribbler
This type of attack has an array of skills that can baffle defenders all game long. They often have pace and great agility to change direction and leave a defender behind.These are often to referred to as flair players and are favorites among spectators. Most commonly these players play in the wider positions where they battle against the full backs. However as with the developments in the games, most attacking and wide players must now possess the ability to beat an opponent to create space.
2: Clinical Finisher
Forwards often have their own way of scoring goals, some hit the ball as hard as possible, some slot the ball in the bottom corner. The latter are known as clinical finishers. Their main attributes are the ability to accurately place the ball far from the keepers reach with relative ease.They usual have a great shot conversion rate and are calm in one on one situations.
4: The Target Man
In mordern football the big number 9 (target man) is becoming more and more unpopular. However they can still do a job in certain situations.
They players are physically strong with great aerible ability. They use their large frame to either hold the ball up and bring others into play, or attack the ball directly when in the opposing area.
These players are used as a target for team mates to clear the ball in pressure situations.
In the past a target man would often play up front a goal poacher, however managers nowadays opt for a lone striker who is more agile and can turn defences with forward runs.
5: The Goal poacher
One of the hardest things to do in football is score goals. Thats why teams will play millions for a player who can get on the score sheet often.The goal poacher is known for finding the space in the oppositions area (often the six yard box) and sticking the ball in the back of the net.
6: The False Nine
Centre forwards are most known for wearing the number 9 shirt, however the false nine performs a different role than a traditional number 9.This forward player interchanges with attacking midfielders in an attempt to find space and lose his marker. This movement can confused the defending team and pull players out of position, creating space for team mates.
Football Positions Abbreviations
Now you now the main positions in a football team, its important to understand how these positions are listed in specific formations.In most situations a coach or manager will abbreviation the position name to highlight the role of a player in a specific team. For example a left back will be more defensive minded than a left wing back.Below are the most common football positions and their abbreviations:
Abbreviations of modern football positions
GK = GOALKEEPER
LB = LEFT BACK
RB = RIGHT BACK
SW = SWEEPER
CB = CENTRE BACK
LWB = LEFT WING BACK
RWB = RIGHT WING BACK
DM = DEFENSIVE MIDFIELDER
LM = LEFT MIDFIELDER
RM = RIGHT MIDFIELDER
CM = CENTRAL MIDFIELDER
AM = ATTACKING MIDFIELDER
RW = RIGHT WINGER
LW = LEFT WINGER
SS = SUPPORT STRIKER
CF = CENTRE FORWARD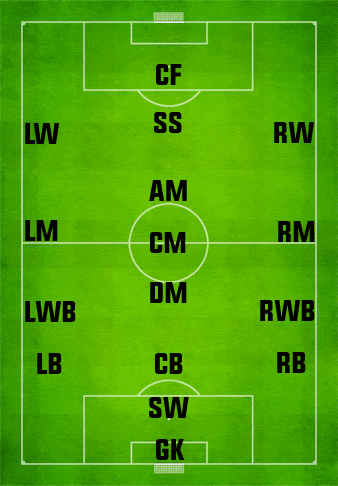 Football Positions Numbers
Nowadays high profile players often get to choose the number of the back of their shirt, sometime for pride (such as Machester United legendary number 7 shirt) or for personal reasons – David Beckham wearing number 23 at Real Madrid for his admiration of the Michael Jordan.
However this flexibility has only been around for a short time, as the significant of squad numbers has become less important.
In the past a shirt number would identify your position on the team, ranging from 1-11.
As football became more popular and different countries developed their own philosphy and formation, their rigid numbering in football became more fluid.
With only the Goalkeeper Number 1 and the Striker Number 9 surviving as a universal position.
The first English game featuring numbered shirt was at Stamford Bridge in 1928 when Chelsea took on Swansea Town. 
Shirt numbers were allocated to players based on position: 
1: Goalkeeper
2: Right full back (right side centre back)
3: Left full back (left side centre back)
4: Right half back (right side defensive midfield)
5: Centre half back (centre defensive midfield)
6: Left half back (left side defensive midfield)
7: Outside right (right winger)
8 Inside right (attacking midfield)
9: Centre forward
10: Inside left (attacking midfield)
11: Outside left (left winger)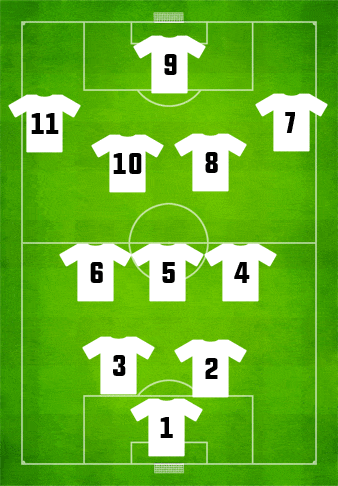 This is alot more attacking then the more recognisable 4-4-2 which is associated with modern day English tactics.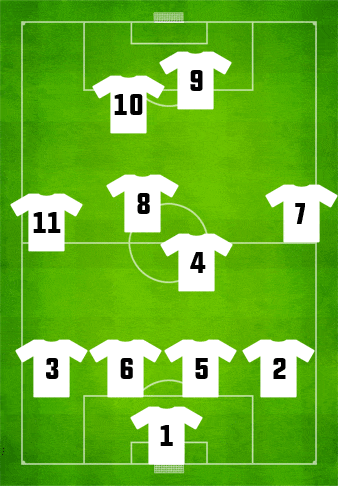 1: Goalkeeper
2: Right Fullback
3: Left Fullback
4: Defensive Midfielder
5: Left Centre Back
6: Right Centre Back
7: Right Midfielder
8: Central Attacking Midfielder
9: Centre Forward
10: Support Striker
11: Left Midfielder
4-4-2 was a defensive progression to the 2-5-3 formation. when the half backs became more defensive centre backs to create a back 4.
Number 8 position became more of a central midfielder role whilst number 10 advanced into a support striker role.
It wasn't until 1965 that substitutes were introduced into football. With numbers started from 12 upwards. However if players were superstitious they could refuse wearing the number 13 shirt.