Looking for a football CV Template?
So you mastered, dribbling, shooting and tackling, now it's time to learn one of the most important techniques in football progression...
Knowing how to write a football CV so that scouts will take notice.
The Basics of a Football CV
Your
football CV
should show that you've been coached in a steady and progressive manner. Therefore, highlighting that you've been involved in not stop for several years is essential.In most working environments, employees learn a set of rules and then apply them to work situations, however, football is different. Elite football is geared around learning principles and ideologies you can interpret to improve your ability and play.This is the hardest part to show on your football CV. This is because football technique and skills are much easier to show then write about.That's why we created the perfect football CV eBook. The advice listed will help you create the best first impression and get the attention you deserve.Other football CV articles:
Make It Easy for the Scout
Sifting through hundreds of CV's is a difficult task for any football coach, agent or manager.So making your CV easy to read and stand out is important.A great tip is for you to find your point of difference. Such as:
What will make you stand out from the rest?
Have you won a particular award?
Do you have a high Illinois agility test score?
Can you show a deep understanding of health and fitness and showing you regularly play?
Any signs of commitment come across well on paper, so try to include this info on your CV.
However...
It's important to not overload the selection panel with too much information. Sometimes displaying one top achievement will command more attention than listing ten small achievements.
Think quality over quantity!
Make your football CV Scannable
Remember, football coaches, managers, and agents are all very busy people. So before reading your CV, they will scan through to assess if it's worth a reading. Therefore, it must be easy to pick out important information at a glance.
Your Football CV Must Show Your Professionalism
The information you convey on your CV needs to show the qualities of a professional football player. You need to show that you understand all aspects of the game. For example, your football CV and covering letter need to show:
Your football playing experience
Your awareness of nutrition
Your commitment to fitness
Your understanding of the game of football
Your football CV and covering letter will communicate to the selection panel you take playing football seriously and are committed to training and improving.
Football CV criteria
Below are some of the key areas you must include in your CV. For a full list and football CV example check out our guide to creating the perfect football CV.
Football CV: Vital Statistics
This is your basic player information. It is also advantageous for you to list your nationality and any languages that you speak if you are applying for a trial or club abroad.For example, if you are Spanish looking to play in England. This helps coaches and managers to evaluate your adaptability and whether or not you will be able to easily understand the coaching sessions.Each club has a limited amount of places they can offer to foreign players, so it is important you highlight your adaptability.The challenge as a foreign player is that the recruiting scout will opt for a smooth transition, therefore, a home ground player may be an easier option. So your CV will need to demonstrate a higher level of competency than others in your age group from the same country.A selection panel will look for different characteristics depending on the position they are looking to fill. For example:
Goalkeepers, center backs, and target men forwards need to be tall
Wing backs need to be quick and with high cardio-vascular levels
Strikers need to be light and with good agility skills
Your playing foot indicates the side of the pitch in which you will play best, and if you are strong on both feet, this can make you appear more versatile
Name
D.O.B
Height
Weight
Footed (left/right/both)
Gender (male/female)
Contact information. e.g. email, mobile, address (use parents contacts if child is under 16 as child working law will be followed by top clubs)
Nationality
Languages
Principal playing position
Yellow cards received (Career to date)
Red cards received (Career to date)
Years of Experience
Gender (male/female)
Game level (school / club/ local team / academy / professional / national)
Football CV: Player Profile
The player profile part of a football CV summarises the type of player you believe you are and the experience you have gained to date. It is the only part of your football CV that is opinion based and not factual. All other opinion based information should appear in your covering letter.
Football CV: Education
Within the education section of your football CV, you should only list institution or teams where you further your football education. If you learned football at school or college then this will be listed, but you do not need to list other subjects eg maths & physics. It is also important to list the dates of each activity.Include the most recent teams you have played for at the top and work backward in time, including how many years you played, and a sentence describing your role within the team. For example, this might include the positions you played and any leadership positions you held in the team.
Football Teams / Clubs you have played for
This is where you include all your football history:
Your Football Team silverware/titles/accomplishments
Football Schools/Camps attended
Personal awards/honors: (e.g. Player of the season, County League representative)
Football CV: Football Strengths
Here you need to list all of the attributes that you offer as a football player.This enables the coach or manager to assess how you might fit into their team. A coach will look for different qualities depending on their current playing squad, highlighting any gaps they need to fill. Therefore, it is best that you are honest in this section of your football CV.
Avoid lying or exaggerating
your skills, as you will be found out at trials and this may affect future opportunities. Instead, show the selection panel who you are. Examples of football strengths to list here are below.
Good dribbler
Free Kick specialist
Stamina
defensive heading
one on one finishing
Statistics during your games should be featured on your football CV. For example your goalscoring record, the number of assists and number of first-team appearances, plus when, and for who you made this record.A potential recruiter will be looking to see continual football development, not just 1 year of record-breaking achievements.A good tip to help the coach to benchmark this information is for you to add back up information to help confirm that the facts you have listed are true. For example, instead of listing the above without comment, try listing it like this:
Good dribbler = 85% success rate in 1v1 situations
Defensive heading = Vertical Jump Test height 3.1m
Stamina = Recorded running 12km in one match
Speed = Recorded 100 meters in 13.4 seconds
Agility = 18.1 seconds in the Illinois Agility Test
Football CV Template: Other important information
Hobbies
By listing your hobbies you are able to communicate your personality to the coach or manager. Examples of this might be: including others sports you play, or activities you enjoy like kayaking, running, listening to music etc.
Referees
List at least 2 contactable referees. This should be people that know you in a football capacity. For example your current football coach, any former coaches/academy trainers etc. Football is a small industry and it's possible that they might already know your referee, and if they have a good reputation for coaching, it can already communicate to the selection panel of the level you have achieved under their leadership. You could even add a testimonial quote from a coach or manager directly onto your CV describing the type of player you are.These are just a few tips for writing a football CV. If you are serious about attracting scouts to watch you play, then we have the perfect tool for you:
Download your Football CV Template Kit
The kit is packed with the very bet advice from experienced footballing experts to help you promote yourself a a footballer and achieve the success you dreamed of. You will receive all 3 items in your kit.
Football CV Template
Pre-written and ready to customise
Football CV Cover Letter
First impressions count. Our proven layout to help you get it right first time.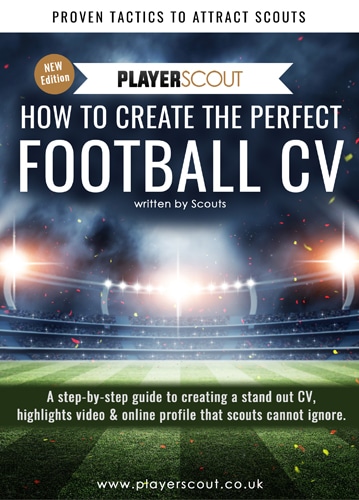 'How To Create The Perfect Football CV' eBook
Step-by-step instructions so you can't get it wrong!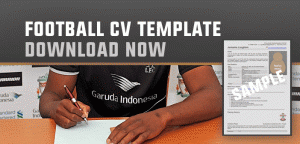 Looking for a football CV Template? So you mastered, dribbling,
More »