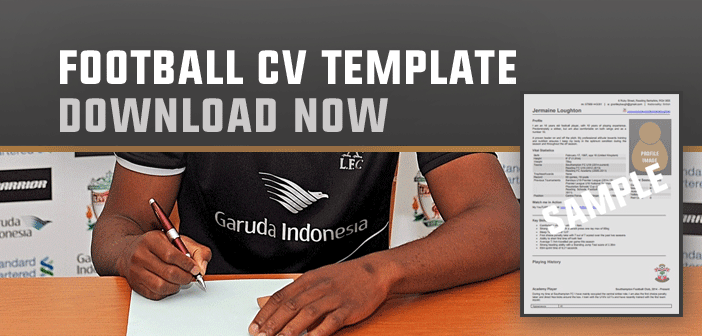 Football CV Template
Download your Football CV Template + free 38 page eBook: How to Write a Stand-Out Football CV. With free cover letter templates and professional advice.
Your Football CV is like any other CV that you write in that it's your one chance on paper to demonstrate that you have the skills and necessary experience to get the job, which in this case is getting a trial or even getting signed to a professional club. Footballers start young (most around 6 years old), and their careers are often short. As a professional footballer you have from around the age of 8 - 35 years of age to live out your football playing career, so you football CV and covering letter is vital to get right from the start.
For tips on How to write your football CV follow this link, and to download a free template to get started, click on the below download links.



Other Footballer's CV Articles...

Download your Football CV Template
We offer 3 helpful football CV templates to get you started.
Football CV template (download below with free eBook)
Football CV cover letter template (free template to download below)
Football CV cover letter template for college football (Useful specifically if you are applying for a football scholarship in the USA)
Football CV Cover Letter
The covering letter for your Football CV often gets overlooked, but it is as important as your football CV itself.
The difference between the two is that your football CV will demonstrate facts and experience. Your covering letter is a chance to demonstrate your personality, and this can be used to your advantage. Download the above football CV cover letter to get started.
Download your FREE Football CV Cover Letter
8 Top Tips for writing your Football CV
Tip 1: Demonstrate your commitment
The most important factor of your football CV is to demonstrate that your experience is steady and on going, with examples of development/progression. Any signs of commitment come across well on paper, so it's important you don't miss any information.
For example, simply playing for a team for one season is not enough. You will need to demonstrate that you have been playing as long as possible, be it in schools, local clubs or tournaments, to build confidence that you're experienced in game situations and have developed your skills over time. Along with this history, list achievements, personal game statistics and performance to make you stand out.
Tip 2: Find your point of difference
For a coach, football agent or team manager, sifting through hundreds of football CV's on a daily basis is a difficult and laborious task. So making your CV easy to read and stand out is extremely important. A great tip is for you to find your point of difference:
What will make you stand out from the rest?
Have you won a particular award?
Do you have a high Illinois Agility Test score?
Can you demonstrate a deep understanding for health and fitness, as well as showing you play regularly?
Find your unique selling point and build them into your CV. Any signs of commitment come across well on paper, so it's important you don't miss any information.
Tip 3: Make your football CV scannable
The other note to take into consideration in such a crowded space is not to overload the selection panel with too much information. Sometimes displaying one top achievement will command more attention than listing ten small achievements, as its easier for the recipient to remember.



The best advice before writing your CV, is to remember that football coaches, managers and agents are all very busy people, so before reading your CV, they will scan through to asses if its worth a reading. Therefore, your CV needs to be clean of excess copy, and easy to pick out important and impressive information at a glance, as this is the first stage to getting signed.
Tip 4: Your football CV must demonstrate your professionalism
The information you convey on your CV needs to demonstrate the qualities of a professional football player. You need to show that you understand all aspects of the game, not just show that you play. For example, your football CV and covering letter need to collectively demonstrate:
Your football playing experience
Your awareness for nutrition
Your commitment to fitness
Your understanding of the game of football
Your training in a series of footballing situations such as 1 v 1, agility training, corners, free kicks etc
The more detail you are able to mention about the game, the more seriously your application will be taken. Your football CV and covering letter will communicate to the selection panel that you take playing football seriously and are committed to training and improving.
Tip 5: Use language specific to your position on your CV
A selection panel will look for different characteristics depending on the position they are looking to fill. Therefore, think about what you are best suited to adn sell yourself with those skills. For example:
Goalkeepers, central backs and target men forwards need to be tall
Wing backs need to be quick and with high cardio-vascular levels
Poachers need to be light and with good agility skills
Your playing foot indicates the side of the pitch in which you will play best, and if you are strong on both feet, this can make you appear more versatile
Tip 6: Be sure to list your strengths on your CV
Sounds obvious, but make sure you have thought about your strengths and have listed them on your CV. And above all be honest as incorrect information will be spotted once you are in live game situations.
Examples of the attributes that you offer as a football player will enable the coach or manager to assess how you might fit into their team. A coach will look for different qualities depending on their current playing squad, highlighting any gaps they need to fill.
Ideas of football strengths to list are.
Good dribbler
Free Kick specialist
Stamina
Defensive heading
One-on-one finishing
Tip 7: Help the coach to benchmark your CV
Statistics during your games should be featured on your football CV. For example your goal scoring record, number of assists and number of first team appearances, plus when, and for who you made this record.
A potential recruiter will be looking to see continual football development, not just 1 year of record breaking achievements.
A good tip to help the coach to benchmark this information is for you to add back up information to help confirm that the facts you have listed are true. For example, instead of listing "A" without comment, try listing like "B" :
A) 1v1 finishing
B) 85% success rate on 1v1 situations
A) Defensive heading
B) Vertical Jump Test height 3.1m
A) Stamina
B) Recorded running 12km in one match
A) Speed
B) Recorded 100 meter in 13.4 seconds
A) Agility
18.1 seconds in the Illinois Agility Test
Tip 8: Add Video footage to your football CV
It helps a great deal if you add a recent headshot photograph to your CV. It is also important in today's world, to include links to videos of you demonstrating your training or playing ability. This is far more valuable than the written content, as it enables the recipient to form an objective opinion about you.
When deciding on how to make your video clip, you need to think about what the recipient will get out of it. Below are a list of video clip ideas that will help you get attention:
Highlight clips from a game at the highest standard you can demonstrate
Clips of a variety of agility and technical training techniques or ball skills (Variety is key here)
For a full explanation, read our guide to making video footage using a smartphone.
Football CV Questions
Like all jobs, moving to a new team or finding alternative people to represent you is a sensitive area. It is OK for you not to put referees down to contact on your CV, but if you progress, there will come a point where the selection panel will ask for a referee to speak with, so it can be delayed but not completely avoided.

It is also worth noting down that a good referee can improve your own reputation as if the selection panel know of the coach then they will know the standard that you are pushed to. Adversely this can also go the other way if you coach is not so great.

If you are young, a potential coach, football manager or agent will be looking to see your potential and your commitment to the game. It is important that you can demonstrate you have the discipline required to train as a professional and improve your game.

They will also look to compare your performance to other players in your age group to decide whether or not you stand out enough to be signed or get a trial.

Showing that you are a diverse football player will be appealing to any coach or football manager, since it means they can move you around if other players get injured and it demonstrates that you have an understanding for different positions on the pitch. Be careful not to list too many positions, as this does not appear authentic, and may arose suspicion. Stick to only listing what you do best.
How to Make a Stand-Out Football CV
Learn how to write the perfect football cv, and once you are recruited, how to pass the 3 areas of assessment used to identify talent in football.
How to make the perfect Football CV (see below):