Football Academy Recruitment teams work full time for the club and are used to develop all scouting and recruitment related activities. These teams are also tasked with finding incredible talent before anyone else. By ensuring that the scouts recruit efficiently and don't miss talent opportunities, the academy recruiters have a direct impact on increased performance at the football club. However, club recruiters work very unsociable hours (such as public holidays and evenings). They also face challenging time barriers, due to the high numbers of football CV they receive each season. Filtering and finding talent can be difficult if talented players are unaware of how to get scouts attention. Top academies such as Arsenal, Manchester United and Chelsea are always on the lookout for top talent, as they understand that every player's development will progress at a different rate each season. This can be down to many factors, including commitment, performance, and maturity. Therefore, it is imperative that every young player knows how to present their football CV, how to create a highlight video and what stats to showcase to scouts. The first step in this is learning what is important to the recruiter…
Latest Get Scouted Articles..
3 Areas of Assessment for Football Academy Recruiters
Football club recruiters must manage and support the synergy of 3 main scouting activities. These are:
Each academy has a head of scouting that works in unison with each of the key scouting areas (live assessment, video evaluation, and analytics). These areas will have specialist staff, therefore you will need to concentrate on each area so you are ready for the scouting process. With the level of competition so high, raw talent will not be enough. You need to prepare yourself for each part of your trial period, so you know what the scouts are looking for.
Football Player Recruitment Team Responsibilities
Each recruiter will cherry-pick through a mass of information looking for stats, player styles, personality or recommendations. Therefore, it is key to know the main responsibilities of a recruiter. They are:
Presenting all potential players in a set format so that they are easy to compare and rank
Collating all potential player information to create a thorough and complete profile of potential candidates using live assessment, video evaluation and analytics
Filtering player information in order to best-align resources and to make sure key targets are prioritised and monitored effectively
Assisting in the monitoring and evaluation of players via both video and live assessment, both in the UK and abroad
Characteristics of Football Academy Recruiters
It's good to know who you need to win over. Understanding that the recruitment process is about impressive a team rather than just one scout gives you a better idea of the process. The recruitment team has expertise in:
The unique nature of football culture
Sport Science
Coaching
Performance and Analysis
Assessing both individual and team performance
Observation, with an extensive knowledge of global footballing markets
How an Academy Recruiter Quantifies Performance
Football academy recruiters have a thorough understanding of quantifying player performance, and how best to apply and utilise statistical analysis within the scouting process. Therefore, it's important that your football CV reflects these stats from the demonstrate your own awareness of what is important in performance to a professional club. Examples of stats important to show are:
Personal stats (Weight, height, age)
Positions played
Preferred foot
Awards / Trophies won
Number of penalties taken and scored
Number of Yellow / Red Cards
Number of Goals per season
Number of Assists per season
Evidence of contact in a professional environment
Evidence of your commitment to playing football. For example: your training schedule off the field, nutritional awareness etc
Personal records
Bleep test scores
Average Kilometres travelled per game
Sprint time for 60m
Get Scouted Football eBooks...
Download your Football CV Template Kit
The kit is packed with the very bet advice from experienced footballing experts to help you promote yourself a a footballer and achieve the success you dreamed of. You will receive all 3 items in your kit.
Football CV Template
Pre-written and ready to customise
Football CV Cover Letter
First impressions count. Our proven layout to help you get it right first time.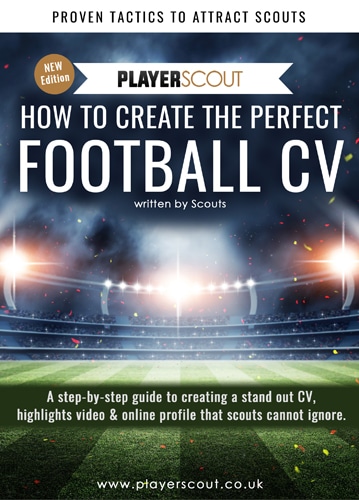 'How To Create The Perfect Football CV' eBook
38 pages of step-by-step instructions so you can't get it wrong!