How Football Scouts Evaluate Players
Youth player assessment is the process a football scout goes through to determine whether the individual has got the skills, qualities and attributes they are looking for at that given time. The following information will give you further depth into how football scouts evaluate players.
Latest Get Scouted Articles..
After a positive player evaluation, the scout will then approach the club with their assessment. Player evaluations include the following:
Goalkeepers
The technical attributes a scout looks for in a goalkeeper include:
Good reflexes
Communication with defence
One-on-one ability
Command of the penalty area
Aerial intelligence
Central Defender
The technical attributes a scout looks for in a Central Defender include:
Strong and accurate ball heading
Tackling ability
Height
Speed
Bravery in attempting challenges
Concentration
Full Backs
The technical attributes a scout looks for in a full back include:
Pace
Stamina
Anticipation
Tackling ability
Marking ability
Work rate
Team responsibility
Central Midfielder
The technical attributes a scout looks for in a central midfielder include:
Stamina
Passing ability under pressure
Team responsibility
Positioning
Marking abilities
Wide midfielder
The technical attributes a scout looks for in a wide midfielder include:
Pace
Technical ability like dribbling and close control
Off-the-ball intelligence
Creativity
Forward
The technical attributes a scout looks for in a forward include:
Pace
Finishing ability
Composure
Off-the-ball intelligence
Technical ability
Heading ability
How football clubs sign players
When a scout recommends a player, this marks the start of a potential signing. However, some scouts may deem a player 'talented but not ready yet'. Here, the club continues to monitor the player's progress until they feel they are ready. The football scout may also continue to monitor this player and assess if the player improves. This way he can see if the player is consistent in their attitude and talent, or whether he discovered them on a 'good day'.
At a point that the club is in agreement that the player is a potential signing, they send an official football
academy trial
invitation. This is an exciting time for all young players as they signify that they have reached a certain standard.Depending on the type of trial you are invited to will depend on which academy staff is in attendance. Each member of academy staff will have a specific role in assessing you as a player. At this point they are not just looking for skill set, they will be looking for:
Team work
Player personality
Player mentality
Training attitude
At the trial, the football club is able to compare any new talent against current players. This allows them to compare their ability and development areas. The club will also perform a background check on the player and if this stacks up they will attempt to sign the player. This can be in the form or a registration, extended period or transfer.
If a player is already signed to a football club academy, they may not be allowed to miss training, or trial at a new club until their registration has ended. This is where the EPPP compensation comes into play. Smaller football clubs are more flexible on this, as they often want the cash if they sell or let a player go.
A career in football is both rewarding and hard work.Getting Scouted is the dream of most football players, whether it's just to get into a better tema in the local area, or to take football professionally and have a full time career playing.
Get Scouted Football eBooks...
Download your Football CV Template Kit
The kit is packed with the very bet advice from experienced footballing experts to help you promote yourself a a footballer and achieve the success you dreamed of. You will receive all 3 items in your kit.
Football CV Template
Pre-written and ready to customise
Football CV Cover Letter
First impressions count. Our proven layout to help you get it right first time.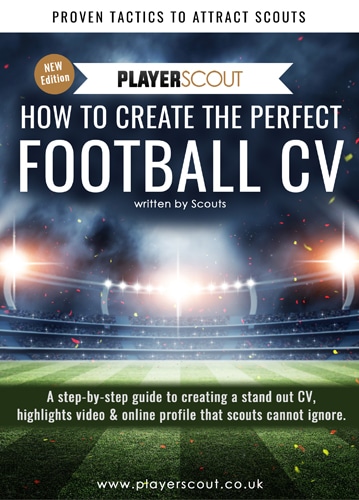 'How To Create The Perfect Football CV' eBook
38 pages of step-by-step instructions so you can't get it wrong!