There are ongoing discussing regarding the amount of water you should drink per day. However, all experts agree that an active person must drink a lot more than a sedentary individual. Below we have listed the latest information for hydration and water intake to help improve your performance and recovery.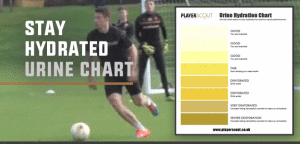 Stay Hydrated with our Urine Colour Chart to keep your body performing at optimum levels for maximum performance.
More »
More Football Nutrition Help ...