We are regularly inundated with questions from players and parents asking how to write a football CV, so have pulled together a detailed guide with input from football scouts, academy recruitment staff and football professionals.
About your Football CV
Writing your Football CV is one of the biggest opportunities you might get to cut through and catch the attention of your potential club, scout, sports manager, coach or team.
From the age of around 8 years old having a football CV is as important as playing on pitch. It gives you a huge advantage since many children play for fun and it separates you from the majority, demonstrating to your prospective coach or manager that you are serious about your game and abilities and that in itself demonstrates drive and commitment.
Each section of your football CV needs to be well thought out and flawless, to sell yourself as a player. Therefore it's important that you invest the time to get it right.
A football CV is the first serious step you will take as a player in finding a team and developing your opportunities within football, all the way through to your big break, showcasing your skills to a football club and achieving your dream of being signed.
The below specifics are the essential parts of your football CV, with complete guidance on how to write a football CV from scratch.
1. Football CV: Contact Details
At the top of your football CV laid out so that they are easy to find, you will be putting your contact information. Depending on your CV layout, it's best to use separate lines for each contact, or separate them clearly so that they are easily found. You will need to add your:
Address (so that the prospective coach knows where you are located)
Mobile or Telephone Number
Email Address (if you are a player and own an email address with a silly or inappropriate title, it's best to create a new email address that is professional, as this may create a first impression that you are not serious about playing.)
Nationality (it's important to use your nationality so that your prospective coach has an idea of where you are from as a player, if you are living abroad etc)
YouTube link (we will come on to discuss your video footage in 'How to create your highlights video')
If you are a parent with a child under 16, it is advisable to use your own contact details as you are still their legal guardian, and registered professional football clubs will follow the child safeguarding legal guidelines.
If you fall into this category, you need to clearly label the contact information with your own name and your relationship to the player in brackets.
For full details, download the Football CV Template Kit
2. How to Write a Football CV: Player Profile
The player profile part of a football CV is your chance to show your value and position yourself as an asset that a prospective football coach just can't miss out on having in their team! It summarises the type of player you believe you are and the experience you have gained to date. It is also the only part of your football CV that is opinion based and not factual, since all other opinion based information will appear on your football CV covering letter. This means that the player profile is a huge opportunity for you to demonstrate your enthusiasm & drive as well as summarising your player career to date. It's important not to waffle in your profile since its harder to read and giving unnecessary information hides your important and significant information, so sometimes less is more. Your player profile should summarise your biggest experiences, and showcase your biggest selling points so anything that you are the best in can go here, along with your main description of the type of player you are and the position you play in. It's also a space to let your prospective coach know why are you are looking to move clubs.
In the Football CV Template Kit you can learn:
In depth advice on how to write your profile summary so that you can stand out as an individual.
Examples of what to put in a profile summary
How to sell yourself
Examples of positive ways to describe your playing position
The optimum length for your profile summary
Example of a good Profile Summary
Example of a bad Profile Summary
For full details, download the Football CV Template Kit
3. How to Write a Football CV: Vital Statistics
Your Vital Statistics highlight your physical player statistics, cups or trophies you have won and any tournaments you have played in. Your vital statistics include 10 key bits of information that you must include in your football CV. Your physical information is important since often coaches and managers know what they are looking for and physical statistics give a vital indication of a players suitability. So if you can play equally well with both feet, then say so. Not only will it improve your chances of getting signed, it also demonstrates your flexibility as a player. Often coaches and managers only have certain vacancies at any one time, so if for example they find an amazing striker, but have four already, they will not scout them, since they have no place for them. A selection panel will look for different characteristics depending on the position they are looking to fill. For example:
Goalkeepers need to ideally be tall with high jump reaches for catching the ball in the air
Defensive players need to ideally be tall with high jump reaches for heading the ball
Wing backs need to be quick and with high cardio-vascular levels
Left backs need to have good agility skills
Your playing foot indicates the side of the pitch in which you will play best, and if you are strong on both feet, this can make you appear more versatile, which radically improves your chances of being selected, since you are more flexible as a player.
Trophies, Awards & Tournaments
Whether you have taken part in competitions or even won them, if you have participated in tournaments, or even own individual awards like 'player of the season', 'player of the match' or 'highest goalscorer' etc this is the time to shout about it. Careful not to overdo it though as putting too many accolades will cause confusion and this could result in you not being picked. Winning awards or recognition as a team or as an individual is a great selling point to list.
Languages
In football (particularly if your native tongue isn't English/American) it's important to list the languages you speak. This is a powerful indication to a coach or manager of cultural similarities they may be looking for, and if you are from another country, the coaches will want to know if you can speak their language in order for them to provide effective training, and that you can communicate with the other team members, since an essential part of all successful teams is good communication amongst the squad and coaches. Listing your language skills can also help coaches and managers to evaluate your adaptability.
Each club has a limited amount of places they can offer to foreign players, so it is important that you can highlight your adaptability. The challenge as a foreign player is that the recruiting scout will opt for a smooth transition therefore a home grown player with the same level of skill may be an easier option. So your football CV will need to demonstrates a higher level of competency than others in your age group from the same country.
In the Football CV Template Kit you can learn:
In depth advice on how to write your vital statistics with clear examples and order for each statistic so that your profile look persuasive and unbeatable. 
10 key vital statistics that you must include in your football CV
How to list trophies, awards & tournaments
Examples of awards or recognition's to include
How to list your language skills particularly if you are from outside the UK
For full details, download the Football CV Template Kit
4. How to Write a Football CV: Current Season Statistics
Your current season stats give your prospective recruiter a snapshot of your abilities regardless of your team and opportunities to date. They mirror the stats collected in professional clubs to carry out Player Performance Analysis, so a professional club will be pleased to see your awareness of what matters in your performance as a player.
In the Football CV Template Kit you can learn:
Professionally laid out current season stats so that you appear aware of your playing ability and understanding of the game.
The 5 current season stats not to miss
How to layout this section
For full details, download the Football CV Template Kit
5. How to Write a Football CV: Your Highlights Video
Linking from the top of your CV with contact information and again after your 'vital statistics', it is advisable that you paste a link that goes through to your highlights video. Your highlights video is a clip of you in action demonstrating your skills, that scouts and coaches can watch. For an entire explanation of how to make your highlights video for your football CV follow our step-by-step instructions in our Football CV Template kit. If you have already prepared your clip and hosted it on YouTube, list the link as below explaining what the prospective coach will see: Watch me taking free kicks: http://www.youtube.com/jermaineloughton%20[your YouTUBE address]
In the Football CV Template Kit you can learn:
How to make an impactful highlights video so that scouts want to snap you up!
How to make your highlights video
What to include in your highlights video
Editing tips for your highlights video
For full details, download the Football CV Template Kit
6. How to Write a Football CV: Key Skills
Consider this a summary of your best qualities, strengths and sporting achievements. Just think, how often do you hear football statistics used in the media to describe a players abilities? It's the norm and a great way to showcase your own abilities since facts don't lie and are hard to argue with.
Under Key skills list all of the attributes that you offer as a football player, and back them up with stats. This enables the coach or manager to assess how you might fit into their team. A coach will look for different qualities depending on their current playing squad, highlighting any gaps they need to fill. Therefore, be honest about your skills as you will get found out at trials if not. Play on your strengths as a footballer and highlight skills you think the team need that you possess, showing the selection panel how amazing you are.
A good tip to help the coach to benchmark this information is for you to use statistics to help confirm that the key skills you have listed are true. For example, instead of listing 'agility', 'high jump height', 'fast sprinter'as your key skills without comment, try listing it like this:
18.1 seconds in the Illinois Agility Test
85% success rate on 1v1 situations
Vertical Jump Test height 2.4m
Average 7.1km travelled per game this season
Recorded 100 meter in 13.4 seconds
Strong upper body with a bench press one rep max of 95kg
You can also list unquantifiable information if it shows good versatility:
Comfortable dribbling with both feet
First choice penalty taker with 7 out of 7 scored over the past two seasons
Ability to shoot first time off both feet
For full details, download the Football CV Template Kit
7. How to Write a Football CV: Playing History
Within the playing history section of your football CV, list the teams / football clubs you have played for with the most recent at the top, including the dates when you played in each team. This gives coaches an indication of whether you prefer little change, or are happy to move teams. A potential recruiter will be looking to see continual football development, not just 1 year of record breaking achievements. The playing history must include the teams you played for at school or college (although you do not need to list other subjects i.e. maths & physics). For each team you have played for it's important to list the position/positions that you played in, and the responsibilities you had in this team, such as any leadership responsibilities. If you had records at this team, then list them. For example: your goal scoring record, number of assists and number of first team appearances. If you played in multiple positions, then this is a very big advantage as it shows versatility, so list them. Your abilities to play in different positions mean you are a universal player, which improves your chances of success. However, naming every single position on the pitch is probably not a good idea!
If you don't currently play for a team, give a reason for your break, or join a lower level team so that you can show you are playing regularly. Scouts and coaches care about seeing a regular commitment to playing and training, so it will help you to secure positions in better teams to play regularly than not play at all.
For full details, download the Football CV Template Kit
8. How to Write a Football CV: Football Experience
If you learnt football at school or college then this will be listed under football experience. This is also the place to list any football specific courses, clubs or summer camps you attended. Scouts are looking to see that you love the game and extra curricular activities communicate just that!
For full details, download the Football CV Template Kit
9. How to Write a Football CV: Educational Qualifications
It's important to show your educational qualifications on your football CV since having consistent grades with your footballing abilities tells a different story to having few educational qualifications but excelling in football. Neither is more impressive, it's just a demonstration of your choices, and what you have chosen to commit to.
Prospective coaches and scouts can tell a lot about a player from their qualifications, and so missing them from your CV can put you at a disadvantage. List all your education, but keep it short since this is a football CV, not an academic one. For example:
Distinction, BTEC ND Sports Science (Filton Sports College, Bristol, 2014)
For children too young to have passed any qualifications it's important to list the schools that they go to, since local coaches and scouts will know about the quality of the sporting education offered at that school, and also that you are near to the club, as lengthy travel can be tiring.
For full details, download the Football CV Template Kit
10. How to Write a Football CV: Nutrition, Fitness & Agility Training
This section is overlooked by many hopeful footballers, but it is an important way to demonstrate on your football CV, that you take playing football seriously and give your mind and body the optimum opportunity to succeed and perform. Consuming the right nutrition, looking after your body to prevent injury and improving on pitch performance by doing regular agility training are signs of commitment and attitude. In this section list anything you do in bullet points relating to:
Your nutritional routine and diet
Your fitness training routine
Your agility training and records to date. (So you can be compared to other footballers of your age)
For full details, download the Football CV Template Kit
11. How to Write a Football CV: Interests
By listing your hobbies and interests on your football CV you are able to communicate your personality to the coach or manager. Remember that they help to frame your personality, so you want to list things that will help the coach to see that you would be an asset to the team. Keep it to one line too, since you don't want your personal life to take up too much valuable space.
In the Football CV Template Kit you can learn:
How to write your interests section and how the interest that you list effect your reputation.
Examples of interests to list
How to identify what your interests say about your character
Interests that may come across negatively
For full details, download the Football CV Template Kit
12. How to Write a Football CV: Referees
It is not essential to add referral contacts to your football CV. However if you choose to they can add to your credibility, especially if the chosen referee is well known b the recruiter. They should both be people that know you in a football capacity. For example team mates you have played with, captains you have played for, your current football coach, any former coaches/academy trainers etc.
The advantage of using Referees on your CV is that football is a small industry, and it is very possible that your prospective coach already knows your contact, and whether or not they have a good reputation for coaching. If they do, this can already communicate to the selection panel of the level you have achieved under their leadership. You could even add a testimonial quote from a coach or manager directly onto your CV describing the type of player you are.
In the Football CV Template Kit you can learn:
About how to layout and list references so that it adds credibility to your player profile.
Who to use as references
How many references to put and how to format them
For full details, download the Football CV Template Kit
13. How to Write a Football CV: Photo
It helps a great deal if you add a recent head shot or full length photograph to your CV. For this the photo needs to be in a football situation, and not of you at home, in a suit or in your home clothes. Examples of a good football CV photo would be:
A head and shoulder close up of you in your playing kit with a pitch background
A full length shot of you in action with the ball during game play or on a training pitch.
14. How to write a Football CV for your child
If you are a parent writing a football CV on behalf of your child it is advisable that you discuss each section, sentence and word with your child so that the language feels relatable to them. If a coach asks your child any questions about the content of their CV they need to be able to answer consistently and knowledgeably.
Coaches and managers are aware that often a child needs a parents help to articulate their skills, and often accept that of course parents will assist in helping their child to create their football CV. However, if it is too polished they will question the truth of what is written on paper, and it could go against your child.
There is nothing more off putting than a pushy parent, so don't push so hard that you ruin your child's chances, as they might be special.
Top 5 Tips for writing a football CV for your child:
Ask you child what they think their best skills are. Their immediate instincts are often the truth so these answers will help shape their CV in a voice that shows your child has had input
Make sure whatever you are writing is believable. Don't over sell your child's ability. For example if they are 8 years old, it is unlikely that they are doing a 100m sprint in 9.8 seconds, or have the jump height of 2.4m!
Try not to make a football CV so polished that it appears to be written by an expert. Coaches and managers will see through this and question the truth behind the content
Ensure you child is happy with all the content you have written
Be prepared that coaches and managers will talk to your child asking them questions about their experience demonstrated on their CV, so its important that your child's answer is consistent with their CV
Download your Football CV Template Kit
The kit is packed with the very best advice from experienced footballing experts to help you promote yourself a a footballer and achieve the success you dreamed of. You will receive all 3 items in your kit.
Football CV Template
Pre-written and ready to customise
Football CV Cover Letter
First impressions count. Our proven layout to help you get it right first time.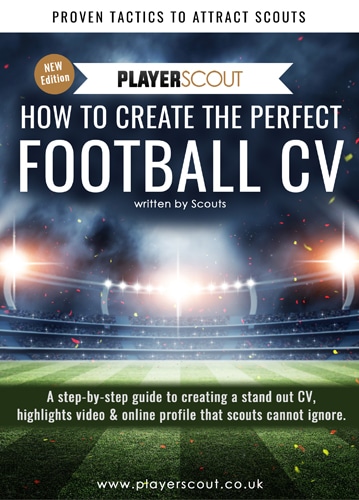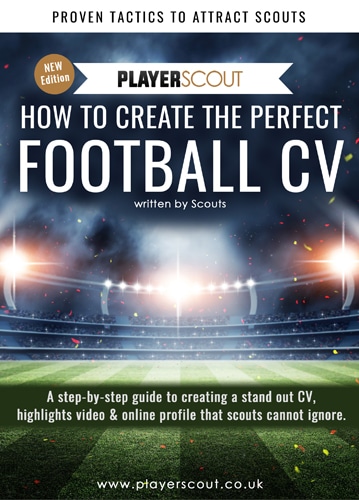 'How To Create The Perfect Football CV' eBook
Step-by-step instructions so you can't get it wrong!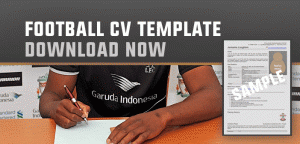 Looking for a football CV Template? So you mastered, dribbling,
More »