10 lucky winners will receive:
the Football CV Kit with downloadable templates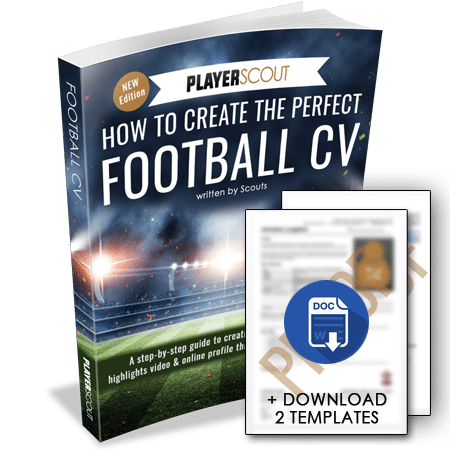 WHY DO I NEED A PROFESSIONAL FOOTBALL CV?
Professional football clubs receive 1000's of applications every month from football players hoping for a trial or a scout visit. This makes it very hard for you to stand out from the crowd. 
The PlayerScout Football CV Kit will transform your personal passion for football into a professional profile that can help you get noticed.
WHAT'S IN THE FOOTBALL CV KIT?
Your kit is packed with the very best advice from experienced footballing experts to help promote yourself as a footballer and achieve the success you dreamed of. You will receive all 3 items in your kit.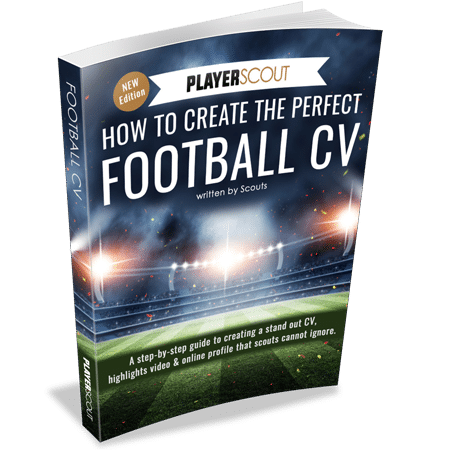 1. How To Create The Perfect Football CV eBook
Step-by-step instructions so you can't get it wrong!
Insider secrets reveal exactly how to get it right for players and parents.
WHAT OUR CUSTOMERS ARE SAYING
"I purchased this for my son and we enjoyed making it together. It was very easy to follow and now he really has something to be proud of. Can't thank you enough"
"Having a professional football CV has helped my son get into the club he wanted. I wanted to reach out to say thanks, the CV and scouting advice really is great!"
"Professional looking CV, helped layout my sons footballing achievements into 2 pages & only took an hour. The ebook was invaluable, many thanks"
Competition Terms Conditions
By taking part in this competition all participants will be deemed to have accepted and be bound by these terms and conditions.
The prize draw is open worldwide to any resident of any country. If you are under 16 years of age a parent or guardian may enter on your behalf.
To enter visit playerscout.co.uk/football-cv-competition/ and fully complete the entry form online to enter. Entries or claims not received, incomplete, illegible or delayed entries will not be accepted.
No purchase necessary.  Internet access required.
The opening date and time for receipt of entries is 00:01 on the 15 October 2018 and the closing date and time for receipt of entries is 23:59 on 31 October 2018.
Maximum one entry per person per prize draw. Anyone trying to circumvent this condition by using alternative details will be disqualified. No bulk, consumer group or third party entries will be accepted.
Prize: Their are 10 copies of the Football CV kit available. The prize will include downloaded copies of the football cv eBook, and the editable football cv and cover letter templates.
The prize is not transferable or exchangeable and cannot be redeemed for cash or any other form of compensation, this also includes the selling of prizes to third parties. The winners will be drawn at random from all valid entries received by the closing date of 23:59 on 31 October 2018 under independent supervision. Prizes will be emailed to the winning participants within 7 days of prize draw. All reasonable effort will be made to contact the winners; however, if contact details are entered incorrectly a re-draw will take place.
By entering this competition you consent to adding your details to our mailing list. Your personal details will at all times be kept confidential, will not be shared with any third party and will be kept in accordance with the Data Protection Act 2018. Click playerscout.co.uk/playerscout-privacy-policy/ for for details of the PlayerScout Privacy Policy.
In the event of unforeseen circumstances, PlayerScout reserves the right to replace entire prizes or prize components with prizes of equal or greater value. PlayerScout reserves the right to cancel, amend, terminate or temporarily suspend this prize draw in the event of any unforeseen circumstances or technical reason outside its reasonable control, with no liability to entrants.
By accepting the eBook, the winner agrees that they will participate in all reasonable publicity and promotional material as requested by PlayerScout free of charge. Proof of sending an entry shall not constitute proof of receipt. No responsibility is accepted for entries that are lost, misdirected, late, damaged or illegible, nor for any associated costs.
Winners will receive an email stating they have won the eBook  with PlayerScout. Within this email, winners will receive a direct link to the download the eBook.
When winners receive their prize, we ask that they save a copy in a safe place. We will not be responsible for any lost or deleted eBooks.
PlayerScout reserves the right at any time and from time to time to modify or discontinue, temporarily or permanently, this competition  with or without prior notice due to reasons outside its control (including, without limitation, in the case of anticipated, suspected or actual fraud). The decision of PlayerScout in all matters under its control is final and binding and no correspondence will be entered into.
Information provided in the eBook is based on scientific research and best practice and is to be used as a guideline to improving your chances of progression within football.
The Prize Draw and these terms and conditions (including any non –contractual disputes that arise out of or connection with them) are governed by English law and entrants submit to the exclusive jurisdiction of the English courts.
Promoter: PlayerScout – www.playerscout.co.uk
By entering this competition you agree to sign up to our news letter which contains the latest information on member discounts, be the first to access new programs and behind the scenes content. You may unsubscribe at any time.