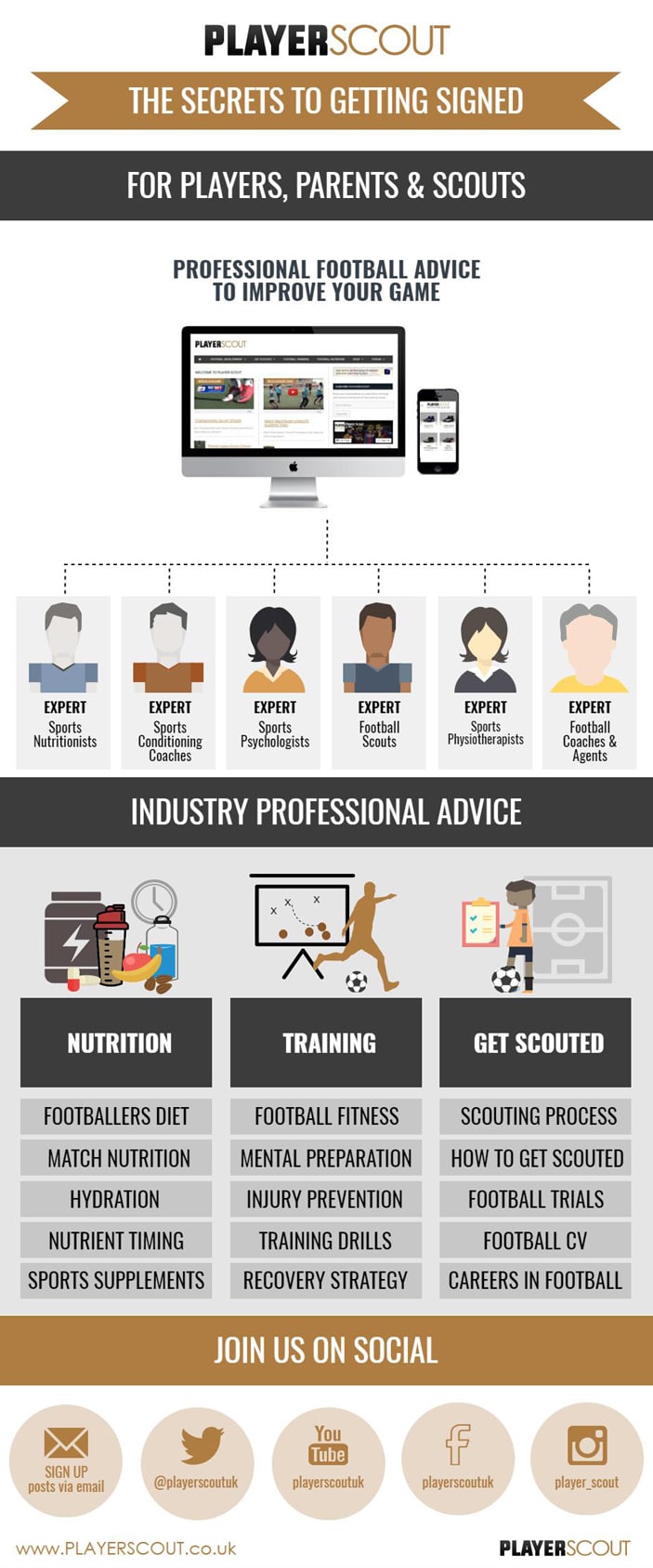 PlayerScout are a team of football experts made up of:
Nutritionists
Sports conditioning coaches
Sport psychologists
Football Scouts
Physios
Football Coaches
Football Agents
Curating advice for players, coaches and scouts to help improve in all areas of football performance.
PlayerScout content includes:
Football Nutrition
Providing information on the latest sports nutrition advice, the ideal footballers' diet, meal plans, hydration, nutrient timing and dietary supplements to improve your performance.
Football Training
Individual training and recovery tips to help you improve all aspect of your game.
How to Get Scouted
The processes behind professional scouting, how to improve your chances of getting scouted and impressing at football trials.
Football Psychology
Strategies to improve your mental strength, helping you to reach optimal performance levels and cope in all situations on and off the pitch.
Our Mission
To provide expert knowledge and top of the game advice on how to become a professional football player, developing your body, game play and mindset.
About Player Scout
At Player Scout, we come to work every day because we want to share our knowledge, and help players maximise their full potential within football.
There is no one size fits all solution to becoming a professional football player. However, we work hard to create and supply all the necessary information to improve your chances of competing at the highest level.
Coaches are Guessing
A large number of grassroots coaches are unaware of how to effectively train individual players, or how to develop position-specific attributes.
[pullquote]
"Only 0.5% of U9's at top academy clubs will develop into first team players."
[/pullquote]
With over 12,500 players signed to football club academies in the UK, that's 12,438 football players that won't make it into a professional first team! But it doesn't have to be this way.
Throughout the history of football, coaches use proven experience to develop players. However, with the pressure of modern-day football, there is a distinct lack of patience to allow players to mature and gain confidence. Our mission at Player Scout is to make the football player development industry as transparent as possible. Allowing players from all backgrounds the chance to improve their game. We want to ensure that top of the game training techniques are available to everyone, not just the 12,500 academy players.
And for those lucky enough to make it into an academy, we want to help them to learn about their bodies, game play and mindset, so that more will progress into first-team players from grassroots.
Who is PlayerScout useful for?
Junior Football Players – Learn about the football academy process and the player pathway to the professional game
Parents – Understand what it takes for your child to progress in football, without reducing their enjoyment of the game
Senior Football Players – Football training and nutritional advice
Football Scouts and Coaches – Free resources for your players to help them improve
Key areas of PlayerScout
PlayerScout offers readers in-depth content and advice developed through their network of football professionals on the following subjects:
How to get scouted
Football career advice
Football training tips
Football psychology
Nutritional advice
Football trials
The academy process
Latest kit reviews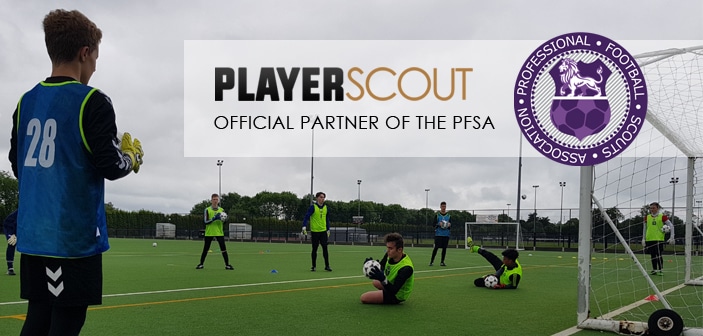 The PlayerScout /PFSA Partnership
PlayerScout is the official content partner of the PFSA. The PFSA advise football scouts and coaches to use content from the PlayerScout site to assist in developing their players.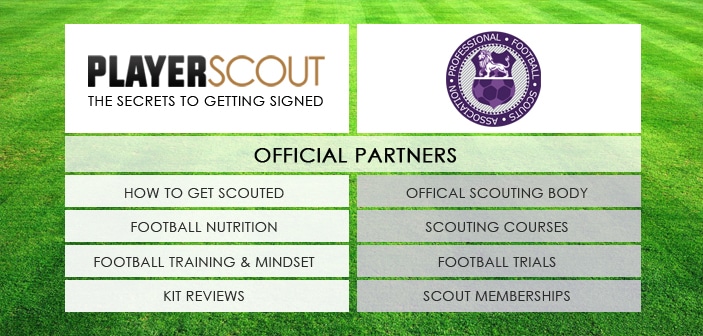 Why have the PFSA partnered with PlayerScout?
PlayerScout.co.uk is one of the leading resources for football development advice for players and staff. Founded in 2012, the PlayerScout team publish free daily content on all areas of the modern game.
The site answers the high demand for relevant football development information from players and parents. Today PlayerScout is recognised as an authoritative voice, providing free football advice to its monthly readers worldwide, assisting them in becoming better players and progressing their careers.
[pullquote]"Our aim is to bridge the gap between grassroots football and the professional game, by providing accurate science-backed advice on training, nutrition, and the scouting process. At the same time we hope to decrease the dropout rates in football, and help many players as possible."
Co-Founder[/pullquote]